Buying Guide
GETTING STARTED
Working With Us
We offer a variety of fine and costume jewelry, as well as custom jewelry. Shop online or make an appointment to browse in person or to talk about custom. Take a look below to read our FAQ and jewelry cheat sheet to learn more about buying fine jewelry and working with us on a custom piece.
As always, text us for more information: 617-292-0079.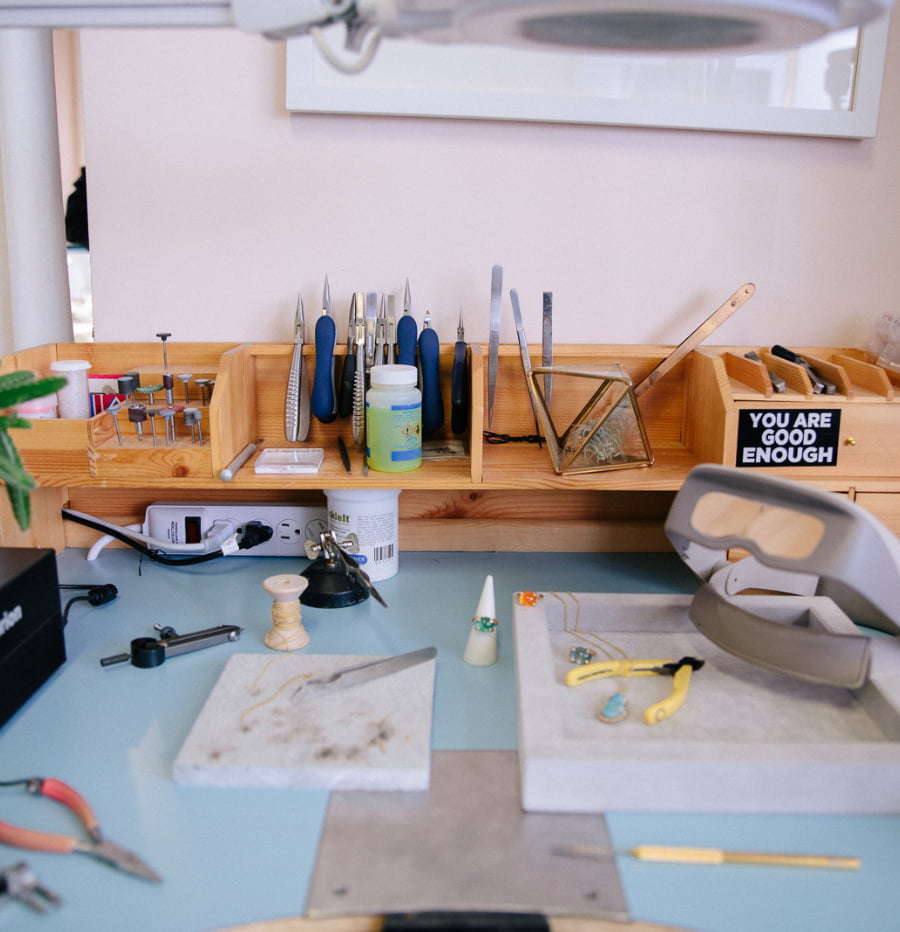 Frequently Asked Questions
WHAT SHOULD I BRING TO MY CUSTOM CONSULTATION?
Bring any jewelry pieces that you're interested in remaking… We can't wait to see what you have!!  We will need to measure stones and take a look at your piece(s).  Bring inspiration and any ideas that you may have for your project.  We also encourage you to consider your lifestyle and what kind of piece will fit best in your day to day.  After we meet with you, we will send you ideas and prices for the project.  If you're working on an engagement ring, we will send you diamond pricing of current stone inventory along with setting pricing.
WHAT IF I LIVE OUTSIDE THE BOSTON-AREA AND I AM UNABLE TO COME TO YOUR STORE?
We frequently work with clients remotely. We are able to insure pieces for shipping and we look forward to working with you.
(Some day you'll have to visit our cute store)
HOW MUCH TIME DOES A CUSTOM PROJECT TAKE FROM START TO FINISH?
It depends. In general, the timeframe we are currently working with is 6-8 weeks. Some projects can be finished in far less time but it also depends on how quickly we all finalize the design and select any necessary stones. Our goal is to always set fair expectations because we know how exciting it is to get new jewels! We also work with many couples that are getting married and engaged so we take timing very seriously.
HOW MUCH DO CUSTOM PROJECTS COST?
Custom projects that involve new designs and may require few iterations on CAD start at $3,000. However, many projects that our customers bring to us are less dependent on CAD, so we consider them "Customizable." An example of a customizable piece may be using a classic setting for existing diamonds, using your stones in an M. Flynn Collection piece, or other more traditional jewelry projects. We require full payment for larger more significant stones along with 50% deposits on all custom projects.
WILL YOU WORK WITH MY STONES?
We will work with your existing stones for remakes. We like to work with heirloom stones and charge a $500 setting fee. However, we do not work with stones purchased elsewhere. Our stone pricing is competitive and we stand by our selection process. There is a lot of noise out there and we will help you choose the best stone for your budget and lifestyle.
WILL YOU USE MY GOLD?
We can in some cases where the piece is extremely sentimental but in most situations using your gold may not always make sense and add extra labor to the cost of your new piece.
ARE YOUR DIAMONDS AND STONES ETHICAL?
Yes. We only purchase diamonds from suppliers who participate in the Kimberly Process, an International body that monitors the diamond trade and controls the import and export of rough diamonds to ensure the stones are not financing violence. We often recommend and shop for estate, vintage or older stones for customers who like the idea of repurposing stones and metals.
DO YOU OFFER APPRAISALS?
We provide custom project clients or pieces purchased with us valued over $3,500 with Insurance Replacement Valuations. The document will outline the details of the jewelry pieces if they ever need to be replaced. A formal appraisal requires an independent assessment by a certified appraiser, this service is not offered in our store at this time.
DO YOU REPAIR JEWELRY?
Yes, we do. Part of owning jewelry is maintaining it; And we can help you fix broken chains, reset stones, restring pearls, and replace clasps. Let us know how we can help you!
Stones
DIAMONDS
While there is a lot of information regarding stones online, not all stones are created equally. Every stone that we use is selected with a great deal of consideration for each client depending on their design needs. While we are always happy to create meaningful pieces using family stones, we prefer to select the stones whenever possible, in order to guarantee quality and appropriate ft for each piece.
COLORED STONES
We only buy colored stones from suppliers who are AGTA members. AGTA members are screened and must adhere to the organization. We've been seeing a lot of fun color lately. Mostly we work with sapphires (they come in all colors and we can source some unique colors domestically from Montana) but emeralds & tourmalines have been rising in popularity at M. Flynn. Keep in mind, some gems are better suited for daily wear. While diamonds are usually pretty straight forward because of their grading system, the colored gemstone market offers us so many choices, price ranges, and cut options, which can be fun but sometimes overwhelming to buyers. The AGTA adheres to strict standards of ethics. Stones are always fair trade and all stone enhancements must be acceptable by AGTA and disclosed to the buyer.
Metals
14K GOLD VS 18K GOLD VS PLATINUM
The gold used in jewelry is mixed with different alloys to make the metal more hard. 14K gold is mixed with more alloys than 18K gold. Although 18K gold is a more pure gold, making it more yellow, 14K is harder and a more toned-down yellow.
Platinum is naturally white, while gold (even white gold) is yellow by nature. Some benefits of platinum are that it's white by nature, it's a heavier metal, and it's more durable, requiring less polishing. Gold is less expensive than platinum, is naturally more shiny than gold, and scratches less easily. Both can be polished up and worn for many years.
DIFFERENCE BETWEEN PLATINUM & WHITE GOLD
Platinum is colorless metal while white gold needs to be plated in order to remain white. We suggest customers buy platinum to pair with fine diamonds. White gold works well with older stones that may not be as white as modern cuts. White gold is also a consideration when weight of ring is a factor. As labor is the biggest cost when a ring is commissioned, price of the metal is not a great factor for our customers.
OTHER METALS
We typically work with and prefer to pair precious stones with Platinum, 14K or 18K White, Rose or Yellow Gold & Palladium.
Design
PAIRING AN ENGAGEMENT RING WITH WEDDING BAND
If you are purchasing an engagement ring, it's always good to consider how it might stack with a wedding band. You should always keep in mind that the rings, if worn together, will rub together. For instance, stones from a wedding band can dig into the side of the engagement ring or metal rubbing next to each other can cause some wear and discoloring. next to each other can cause some wear and discoloring. Next, we often recommend simply complementing the engagement ring with the wedding band. Often times we suggest that clients consider wearing their rings on separate hands if they would like to have more of a selection of styles for their wedding band.
ETERNITY BANDS
When choosing a band, keep in mind that eternity bands cannot be easily re-sized.
Sizing
HOW TO ACCURATELY DETERMINE YOUR RING SIZE
Having an accurate ring size is very important to our pricing and design process. We offer ring sizers to our customers or you may choose to send us a ring that has been worn comfortably on the same finger. Most jewelry stores are happy to measure, too. Ring size is particularly important for eternity band or other rings that have details or stones around the shank. An incorrect ring size may prove to be difficult to repair and may add a cost of material to the ring.
When measuring for a ring, keep in mind that while all fingers are shaped differently, a ring should feel tight going over the knuckle so that it does not easily slide of but snug enough on the base of the finger to not spin. It is normal for fingers to fluctuate in size and for rings to ft better on one day than the next.